So here's how I feel about Mothers' Day: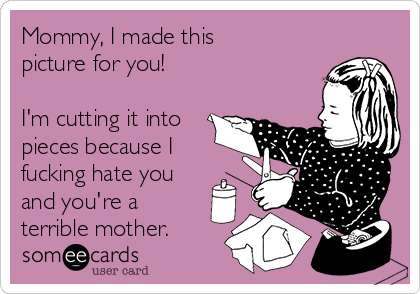 And also a little bit of this: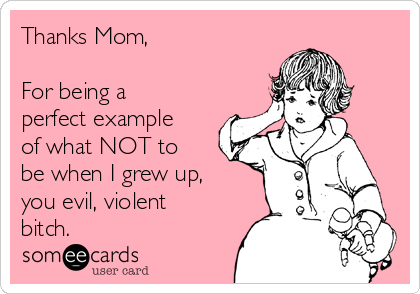 Because, among other priceless, warm, Hallmark-style moments, she once hit me so hard my nose started to bleed. Then she told me it was my fault, because I had flinched, and that I had better stand still so she could do it right. And then she hit me again.
I hate this day.
But that's all the negativity I'm going to spread today. Giving birth does not make you a mother; caring for a child, or even for someone who is the correct age to potentially be your child, is what makes a woman a mother. Some people's grandmothers become their mothers. Sometimes a babysitter, aunt, teacher, or friend's mom can become a mother to a child who needs that presence. So today, I'm going to say thank you to a few people who showed me the kind of love and attention I needed from a mom, throughout my life.
Note: I am making these people anonymous for their own benefit, because they have no idea I'm talking about them on the internet.*
Dear Ms. K, my Kindergarten teacher,
Thank you for always smiling at me. Thank you for making me feel safe, smart, special, and likable. Thank you for making school a positive place for me to be. Because of your influence in my life, I am who I am today, which is healthy, able to strive for happiness, and successful in a meaningful career. May you have the happiest of Mothers' Days, because you deserve it.
Dear JK Rowling,
You have always been there for me. When I was completely alone, overwhelmed, and staring up from the bottom of a pit in 3rd grade, 7th grade, 9th grade, even in college, you were there for me. You gave me a book that was like a warm blanket, always inviting, where I always belonged. You can never know what a lifesaver your books were to me. I strongly believe I would not be alive today without Harry, Ron, Hermione, Dumbledore, Hagrid, and the others. That is not an understatement. May you have the happiest of Mothers' Days, because you deserve it.
Dear Mother-in-Law,
When I met your son, I was convinced that I was not worth loving as a daughter. I was terrified of women in your age bracket. When I "divorced" my own mother, I feared your judgement. I had panic attacks about having to explain to you that I did not want my own parents involved in our wedding.
You told me that day, when I was hyperventilating while trying to casually spill it all out, that it was not my fault. You hugged me. You let me cry. You have called me to ask how I'm doing, separately from your son. You have referred to me as your daughter. You have made me feel like I have value, that I am good enough. Your son does these things too, and it is easy for me to see how he turned out to be such an amazing, kind, gentle, sweet, smart, funny person; how could he have been anything else, with a mom like you?
I am so glad that along with my man, I got you as a fantastic bonus. Thank you for everything. May you have the happiest of Mothers' Days, because you deserve it.
If you'd like me to post a message to a woman who helped raise you, make you a good person, or kept you from total despair, please send it to me in the comments or to dandelionsoapbox@gmail.com.
* Except for JK Rowling, who is a public figure and is hopefully used to shout outs online.